Upcoming Webinar: Conducting State Needs Assessments
Association of State and Territorial Health Officials (ASTHO) and the Alzheimer's Association will co-host a webinar exploring the role of public health in conducting state or regional needs assessments related to Alzheimer's and other dementias on June 8 from 3:00-4:00 p.m. EST. Please register in advance.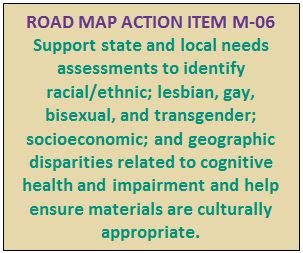 Roadmap Action Item M-06The webinar will feature presentations from Dr. Babak Nayeri, Clinical Associate Professor at the University of Arizona and Director of Healthy Aging for the Arizona Department of Health Services, and Michelle Ries, Project Director of the North Carolina Institute of Medicine, on assessments that were conducted in their states. Molly French, Director of Public Health at the Alzheimer's Association, will also provide an overview of the Alzheimer's Association's Needs Assessment Toolkit.
Comprehensive needs assessments are essential to helping state and local public health officials meet the diverse needs of people with cognitive impairment. As recommended in the Healthy Brain Initiative Road Map, public health practitioners can support local needs assessments to identify and address disparities. Jointly developed by the Centers for Disease Control and Prevention's (CDC) Alzheimer's Disease + Healthy Aging Program and the Alzheimer's Association, the Road Map outlines 35 actions state and local public health officials can take to promote healthy cognition, address cognitive impairment, and meet the needs of caregivers throughout their communities.